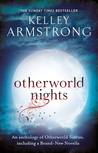 Otherworld Nights
by
Kelley Armstrong
My rating:
4 of 5 stars
**I was provided a complimentary copy of Otherworld Nights in exchange for my honest review.**
Otherworld Nights is a compilation that contains a series of novellas about several of Armstrong's more popular characters. If you have enjoyed her characters in the past, then this book has something for everyone.
What I enjoyed most was that, rather than each story rehashing what we already knew about certain characters, it added to our knowledge of them, answered questions we may have had or delved into their unknown history that we learned about in Armstrong's prior books.
Although this book can easily be read as a stand-alone, I believe it would be much more satisfying if it was read in order, after having read the novels. And here's something to keep in mind if you haven't yet read the novels in the series and are reading this as a stand alone - each novella will contain spoilers. No question.
While the stories are short, they are well written and still follow the traditional story arc, just on a much, much shorter band. The intro gives you enough background that you have a sense of setting and relation to the larger story, even if you haven't yet read it.
Then there is the meat of the story, quick and to the point, filled with action, suspense, and emotions. It's typical Armstrong writing - solid, clear and defined. One thing I did notice that was outside of her "normal" writing style was that the endings didn't have the cliffhanger they usually do,. But, I figured since we seem to be looking back, rather than forward, it's more of a flashback to the past than a planning for the future.
Overall, the stories were solid, filled with a variety of her most popular characters; it's like a Jerry Springer follow-up on Armstrong's most loved. =)
Solid, enjoyable, it left me wanting more - which, in this case, is a good thing!
View all my reviews